Twin Star electric fireplaces are one of the best in the market but after some years of use, you may start facing some issues.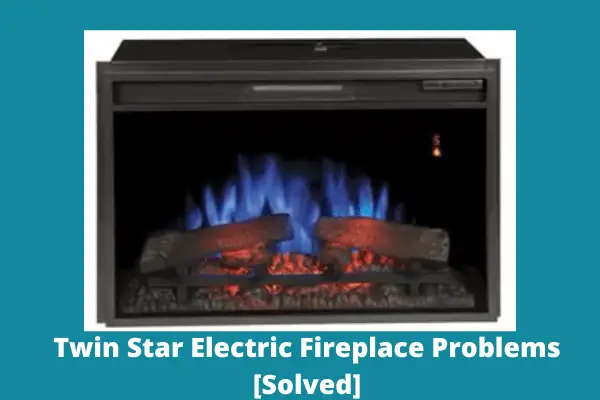 Some of the common Twin Star electric fireplace problems are –
the heater fan not running
the fireplace keeps shutting off
the heater not turning on
no heat production
flame lights not working or error codes showing up
furnace making noise
malfunctioning remote control, and thermostat problems.
Keep reading our Twin Star electric fireplace troubleshooting guide to solve your heater issues ASAP.
Table Of Contents
Twin Star Electric Fireplace Problems [9 Easy Solutions]
In this section, you will get the simplest solutions to your Twin Star electric fireplace's common problems. 
1. Blower Not Running
Twin Star electric fireplace blower not working is an issue users need to commonly deal with. Your heater blower may stop working if the wiring is broken or loose.
The capacitor might not be working, the furnace filter might be clogged, or your heater motor might be damaged.
Solution:
First, verify if a fuse has blown or if the power cord has melted. Unplug the fan for a few minutes before connecting it back in if your wires seem to be in good shape. Sometimes performing this method will reset the blower motor and fix your heater issues.
Next, clean your air filters and check that air is flowing through your furnace to prevent your blower from being put under extra stress. If your blower is powered on and humming but not operating.
The capacitor may need to be replaced. If the blower doesn't hum at all when power is applied, the entire motor is broken and needs to be replaced.
2. Shuts Off Continuously
If your Twin Star electric fireplace keeps shutting off, it may have inadequate airflow, the blower may not be operating or the air filter can be clogged.
The broken thermostat can be the culprit behind the issue. If your fireplace is too large for your house, it could occasionally shut off rapidly.
Solution:
When an electric fireplace turns off by itself, follow these instructions.
To ensure that enough air can flow, check that the air filter, vent, and exhaust are all clean. Verify the blower is operating.
Examine the thermostat next. It can require new batteries or have a wiring issue. If not, use a multimeter to check the thermostat for continuity. Replace as required.
Your heater may also be a problem if it is too big for your house. In that instance, the room will heat up too quickly and shut off too soon. If this is the case, you will have to completely replace the fireplace with a smaller one.
3. Doesn't Start-Up
If your Twin Star electric fireplace won't turn on when plugged in, it may be because a limit switch or circuit breaker has tripped. A malfunctioning thermostat or control panel is another possibility.
Solution:
The power source should be examined first. Due to overloading, your heater might have triggered the circuit breaker. To restore power, reset the circuit breaker.
The safety switches on your heater could also be activated. When the heater reaches its high limit, it is turned off. Check for proper airflow and, if necessary, reset the high-limit switch.
If the aforementioned parts are functioning properly, then it might be your thermostat. Check for continuity with your thermostat.
It might require replacing. Inspect the control board after that. As changing a control board is a difficult process, you might need to employ a professional.
4. Heat Not Coming
Your Twin Star electric fireplace not heating can mean a broken blower, the heater running through its cool-down cycle, or a broken heating coil.
Solution:
Ensure that the thermostat is rotated all the way clockwise to the highest heating setting if your Twin Star electric fireplace won't heat.
In case the heat doesn't start at this point, you might have a problem with some internal control parts.
Make that the fan is functioning. Hot air from the furnace is blown into the space by the blower. Your heater won't generate heat while the fan isn't running. Another possibility is that your furnace has overheated and is currently in a cooling-down cycle.
The blower will then circulate cool air throughout the space. If this is occurring, nothing has to be done. That is what your heater is intended to do occasionally. It'll be alright.
The heating coils no longer functioning is another reason. If necessary, you can examine them with the help of a multimeter and change them. This should resolve the problem when your Twin Star electric fireplace stopped heating.
5. Malfunctioning Flame Lights
Your Twin Star electric fireplace light not working can be the result of one of the following issues:
Loose wiring
defective flicker motor
The LED driver board might be malfunctioning.
Solution:
Here's what you need to do when your Twin Star electric fireplace flame is not working.
Look for any loose connections in the wiring. If you discover any, make sure the wiring connections are now securely fastened.
If the LED driver circuit board or flicker motor is broken, you might need to buy a new one.
6. Heater Error Codes
Some Twin Star electric fireplace error codes are common and users have to deal with them more frequently. We will take a look at them here.
i). Error Code E1
You can see code E1 on the display when the thermostat of your Twin Star electric furnace breaks or becomes disconnected.
Solution:
Ensure that the thermostat is connected to the primary circuit board. In this situation, remove the fireplace's rear panel to inspect the thermostat's connection to the circuit board.
ii). Error Code E2
When E2 appears on your fireplace's display, the thermostat sensor has become damaged.
Solution:
To resolve this problem, replace the thermostat.
iii). Error Code E3
If your Twin Star Electric Fireplace enters overheat protection mode, error code 3 will appear. Now, you could be wondering why my electric fireplace overheats. The appliance gets overheated if dirt blocks the air inlets and outputs.
Solution:
First, unplug the appliance from the wall socket and give it 30 minutes to cool. After that, clear the air inlets and outlets of the obstruction.
Connect your electric fireplace at this point to a regular outlet. Keep an eye on your firebox to spot any overheating symptoms.
If the problems persist, you can read up on ways to prevent the fireplace and fireplace mantel from overheating or seek assistance from the manufacturer's support staff.
iv). Error Code ER
The electric fireplace's display flashes the error code "ER" when the Power plug overheats. If there is a poor outlet connection or unsecured plugs present, the power cable or plug will overheat.
Solution:
First, make sure the socket is connected properly. Replace or repair the damaged cord right away if you can. As a result, be sure to utilize a 120-volt outlet.
Never use the same socket where you hook in the electric cable to your fireplace for plugging in any other electrical devices.
v). Error Code E5
There is a problem with your Twin Star blower or the venting if you see E5 on your furnace display. Voltage may also be the problem preventing the fan from spinning.
Solution:
To safeguard your safety, remember to disconnect the furnace from the electric source and turn off the power. After that, see if anything is obstructing your fan.
Additionally, check to see if anything is jammed against the fan. Ensure that the fan in your fireplace receives the appropriate voltage as well.
7. Fireplace Making Noise
Twin Star electric fireplace making noise is a problem that many people report. The most likely reasons can be determined based on the type of sound. Most frequently, it has to do with the blower.
Solution:
According to our expertise, the following circumstances may exist if your fireplace is making noises.
Typically, rattling sounds indicate that blower screws are loosened and detaching as a result of vibration.
When originating from the control panel, a buzzing sound is a sign that the flame speed control module is malfunctioning.
Whirring sounds can be produced by a filthy blower.
If you hear grinding, the flame rod most likely has damage.
If you only hear noises when the blower is running, the motor is probably broken.
8. Malfunctioning Remote Control
The most likely reasons why your Twin Star remote control not working are the wrong operation, the requirement to initialize the remote to the furnace, a radio frequency disturbance that could be brought on by an outside source, dead batteries, a defective remote, or a damaged remote receiver.
Solution:
Choose the factor(s) that apply to your case. Remove each cause one at a time.
It's easy to check that you're using the remote properly, change the batteries, and determine whether anything else is causing radio frequency interference by reading the user handbook.
The most common cause of your furnace remote not functioning if your Twin Star electric fireplace is new is that you haven't initialized it to the fireplace. Therefore, set up the transmitter for your furnace.
If you've tried the first four options and your remote still isn't working, it's conceivable that you need to get a new one. Replace the remote receiver if the issue still exists after testing with a different remote.
9. Thermostat Issues
When you use your Twin Star electric fireplace for a time, there may be some thermostat issues. Some typical thermostat problems include a blank LCD screen, a hot thermostat housing, a flickering LCD pane, and difficulty setting the temperature.
Solution:
A blank screen indicates that there is no electricity going to your thermostat. Verify that the heater is on, the circuit breaker is not triggered, and the thermostat is correctly installed.
Thermostats that are too hot are unfixable. In actuality, it is pretty typical. You will be okay as long as there isn't anything flammable nearby.
Allow your thermostat to rest for around 20 seconds if the LCD is flickering. It needs to halt and show the standard temperature-setting options.
If you are unable to specify the preferred temperature, you may select a temperature from the fireplace's range of 5-35° C.
FAQs:
Why does my electric fireplace say EC?
When a power outage occurs or the unit is unplugged from the wall while it is still running normally, the error code "EC" may display on the LCD control panel and the device will stop working.
How do I change the temperature on my electric fireplace without the remote?
Find the controls for the fireplace, then turn both the flame and the fireplace on. The electric fireplace's heat setting can be chosen and set using a few controls, including low, medium, and high heat. 
How do I reset my Twin Star heater?
Start by turning off your heater and unplugging it. Wait for 1- to 15 minutes before you replug your Twin Star heater. When you turn it on again now, it will be reset. 
Are electric fireplaces worth it?
We think so. In addition to being safer to use, electric fireplaces can heat a room faster and more effectively than wood-burning fireplaces. These affordable heaters are one of the most effective ways to heat a room, which lowers the cost of electricity.
Can electric fireplaces cause fires?
It's highly improbable that electric fireplaces will start a fire. Electric fireplaces use electricity rather than flames to produce heat. To give the appearance of fire, the "flames" are artificial.
Conclusion
Hopefully, we have covered whatever Twin Star electric fireplace problems you were facing. Leave us a comment in case you are still struggling with an issue with your fireplace. 
We recommend you don't try to fix your fireplace on your own if you aren't feeling confident about going in for the repair. These things are costly. Control board replacement or blower replacement is a bit advanced.
So, in case the repair you need is too complicated, it is wise to leave it to a professional. Trust us, even though it costs more, you will save yourself a lot of trouble.