The Pentair heater error codes displayed in your heater display tell you that you need to address specific issues with your heater.
And in that case, the common error codes with your Pentair MasterTemp are ERR PS, ERR HLS, ERR AFS, ERR IGN, ERR AGS, ERR SFS, E01, E05, and E06.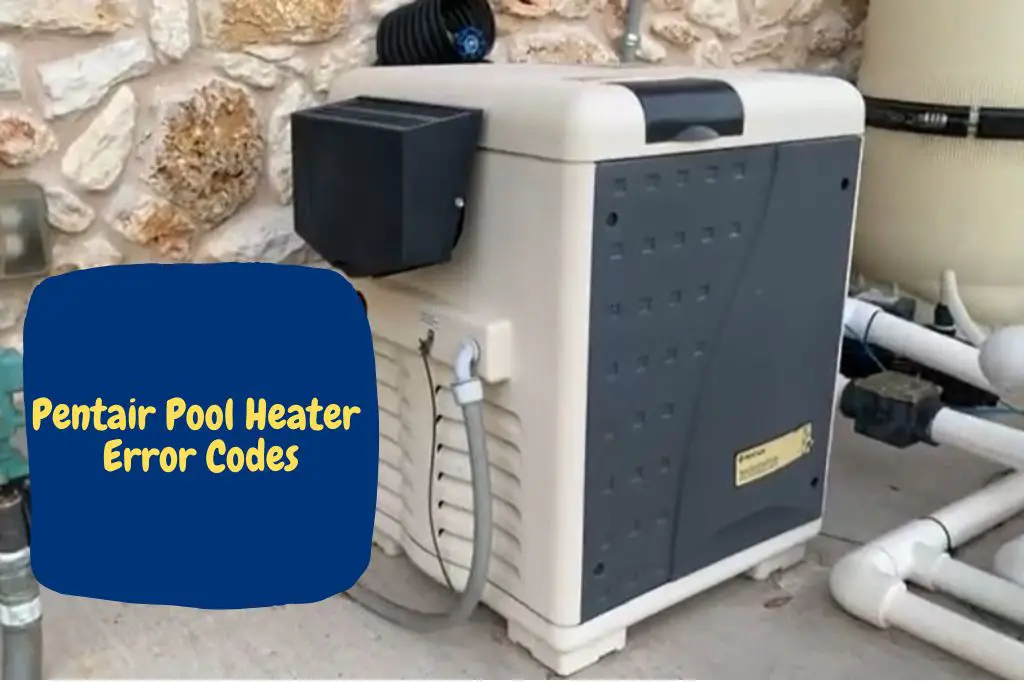 However, keep reading our Pentair pool heater troubleshooting guide to find out all about these error codes and their simple solutions.
Table Of Contents
Pentair Heater Error Codes [Reasons + Solutions]
In this section, we will look at what each error code means and what are the simple solutions for these errors. 
1. ERR PS Error Code
In ERR PS, the PS stands for the pressure switch. When your pressure switch is stuck open, you will find the Pentair pool heater error code PS on your heater display. This is caused by insufficient water flow through the heater.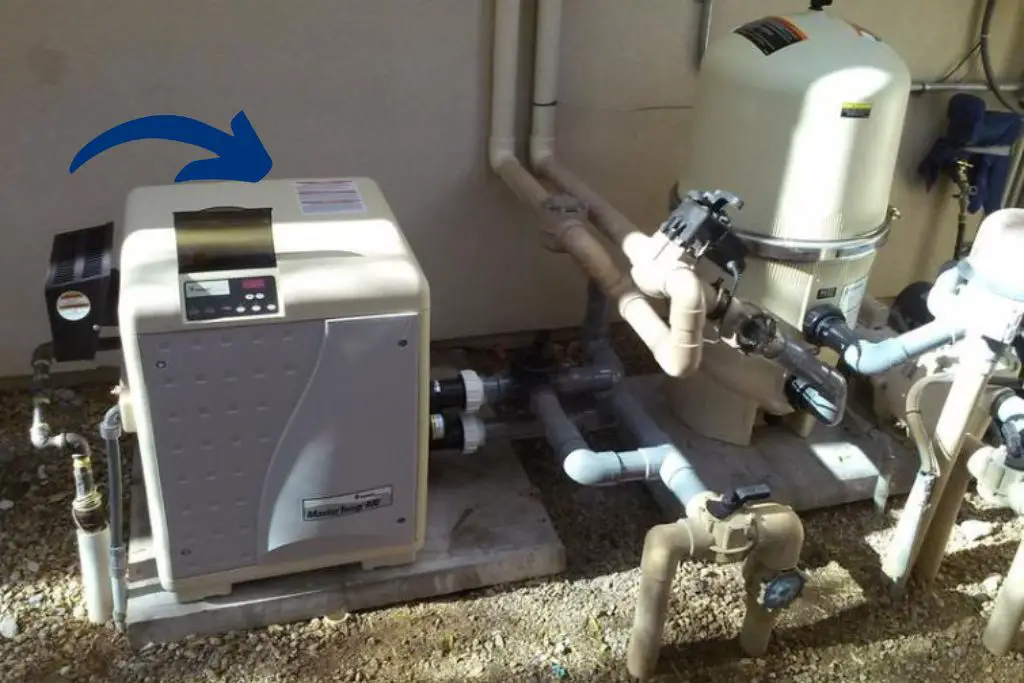 Solution:
To get rid of this error message, you'll need to make sure there's enough water flowing.
Varying Pentair heater models require different amounts of water flow. Check out the chart below to see which range is best for your model.
Water Flow Rates For Different Pentair Models
| | | |
| --- | --- | --- |
| Model | MIN. (GPM) (LPM) | MAX. (GPM) (LPM) |
| 175 | 20 (76) | 120 (454) |
| 200 | 20 (76) | 120 (454) |
| 250 | 25 (95) | 120 (454) |
| 300 | 30 (114) | 120 (454) |
| 400 | 40 (152) | 120 (454) |
Note: Never exceed the maximum recommendation flow rate for the connecting pipe.

And remember, you must ensure that the water flow is not obstructed. It's possible that there's air in the pipes.
Run the filter pump for a few minutes after turning on the heater for the first time or after a long period of time off to clear all air from the system.
Clean the pool filter. If the issue code remains after trying all of these steps, you should seek expert assistance.
2. ERR HLS Error Code
The ERR HLS code means that your heater's high-limit switch is stuck open. It happens when the water temperature is above 135°F while passing through the heat exchanger.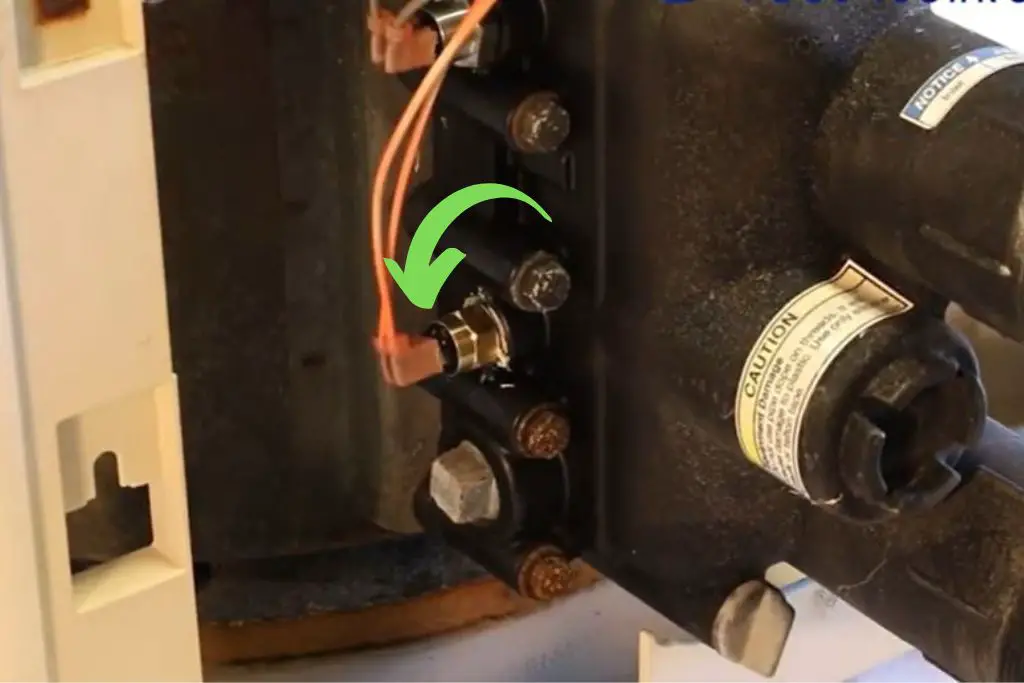 It means that your heater is getting too hot and the high limit switch turns off the heater for safety.
Solution:
The water temperature needs to fall below 135°F for the high limit switch to close again and your heater to start working again.
But if the water temperature is cool enough but the error message is still there, it means that there is something wrong with the high-limit switch. The HLS may need replacement. 
3. ERR AFS Error Code
AFS stands for airflow switch. The AFS being open will cause this error message to pop on your screen.
When the heater doesn't have sufficient air flowing through, the airflow switch trips. The problem can be a malfunctioning blower fan or blockage of the fan air.
Solution:
There are a number of reasons why your blower can stop working. Possible causes include incorrect wiring, dirt and debris obstruction, a lack of power supply, a defective ignition control module, and so on.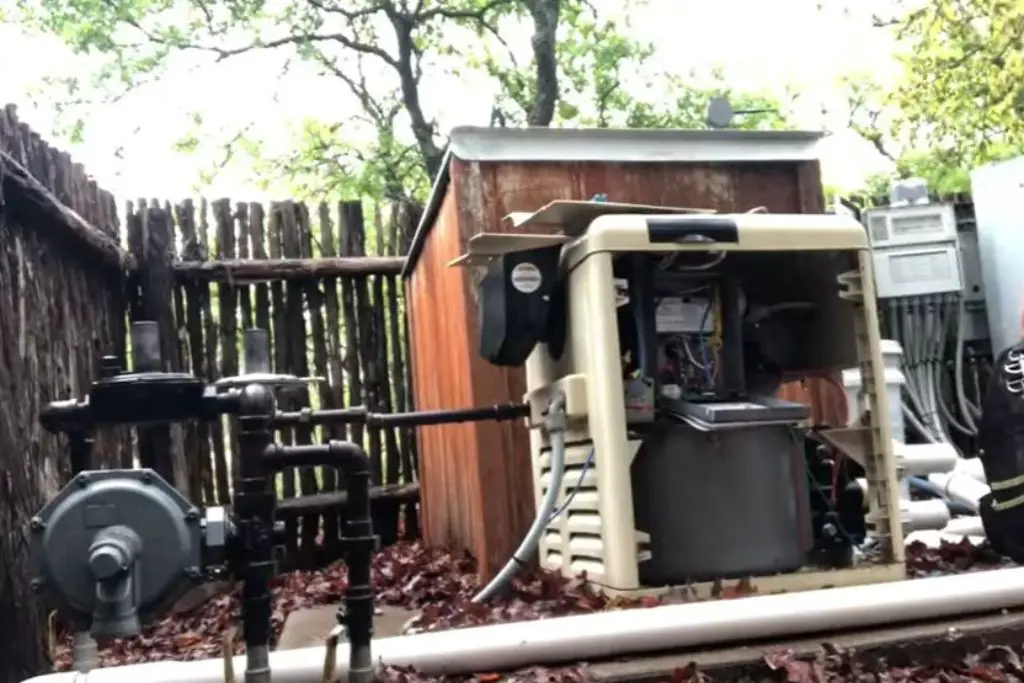 Read our troubleshooting guide to figure out how to fix a faulty Pentair blower.
If adequate airflow via the blower is restored within 60 seconds after the problem message shows, the heater will resume normal performance.
Otherwise, after you've fixed the blower, you'll have to reset the heater. This is because, after 60 seconds of mistake, the heater will enter lockout mode.
4. ERR IGN Error Code
The ERR IGN code indicates ignition failure. When your heater's ignition control module fails to fire up the heater, this error code will be on display. An ignition failure can be caused by a variety of heater components.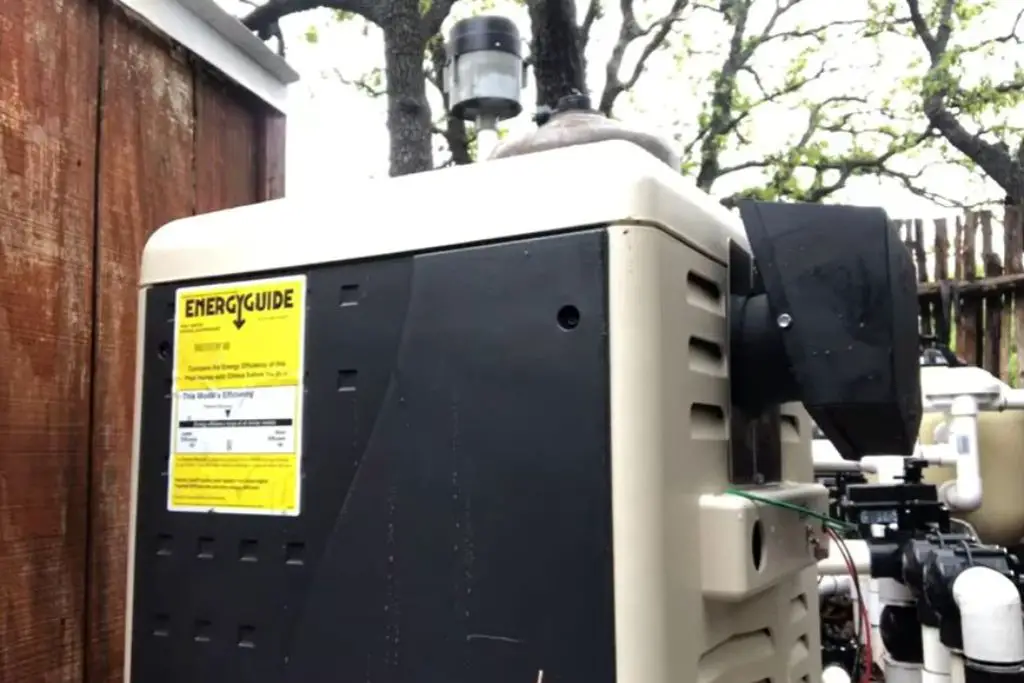 A malfunctioning ignitor, a busted control module, a clogged or damaged flame sensor, a bad thermal regulator, or defective AGS or AFS are the likely reasons.
Solution:
You need to test each of the components to see if they are the culprit. Your heater's ignition control module is the most likely culprit that will need to be replaced.
If your igniter doesn't spark, it is faulty and needs replacement. Read our article on Pentair ignition failure to learn more. 
5. ERR AGS Error Code
When the temperature of the water going through the heat exchanger for the second time exceeds 140°F, the Pentair pool heater error code AGS occurs.
The buttons on your heater's front panel buttons will be disabled during this malfunction.
Solution:
You must check that the rate of water flow is within the range specified and that the water temperature does not exceed 140°F to correct this error.
Insufficient water flow is usually caused by a dirty filter. Try cleaning it up if the water flow is less than ideal.
6. ERR SFS Error Code
SFS stands for stack flue sensor. ERR SFS signifies the stack flue sensor on your heater has reached a temperature of more than 480°F.
Your heater's front panel will stop working when this error occurs.
Solution:
To get rid of this error number, you'll need to double-check a few items. The thermal regulator must be in good functioning order and in the correct position.
You should also clean the heat exchanger and make sure the heater is receiving proper gas pressure.
7. E01/E126 Error Code
The temperature sensor on your Pentair pool heater is open, as indicated by both the Pentair pool heater error codes E01 and E126. They mean the same.
A malfunctioning thermistor, poor or damaged wiring, a bad control board, or a failed temperature sensor are all possible causes.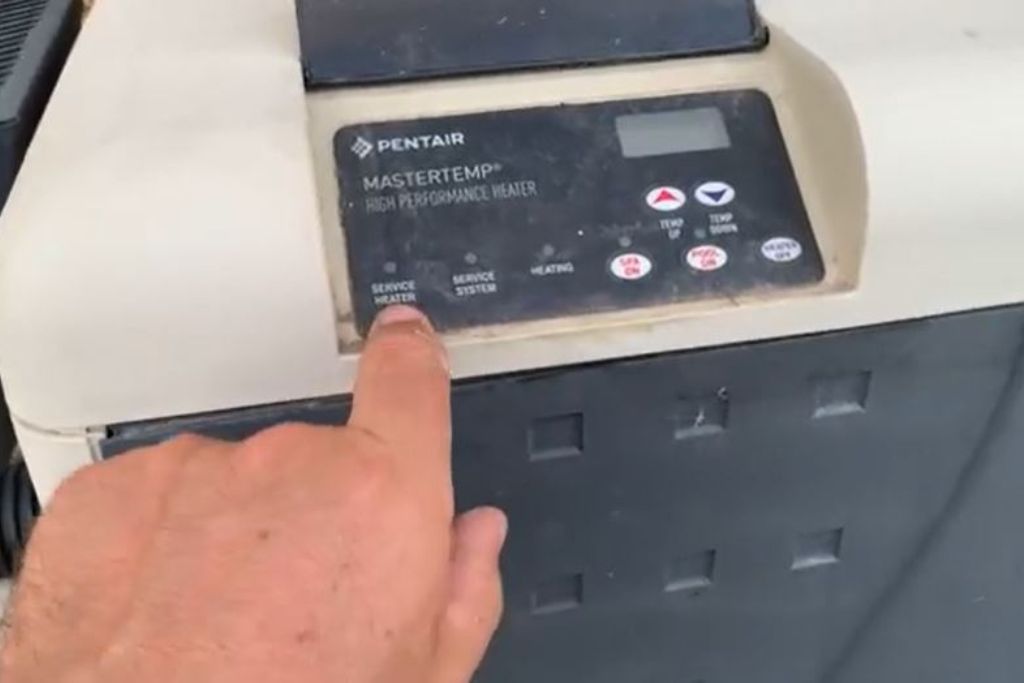 Solution:
To fix the error codes E01 and E126 with your Pentair pool heater, very first, inspect whether the thermistor is working. Replace if it is bad. Check on the unit's wiring to ensure that isn't the problem.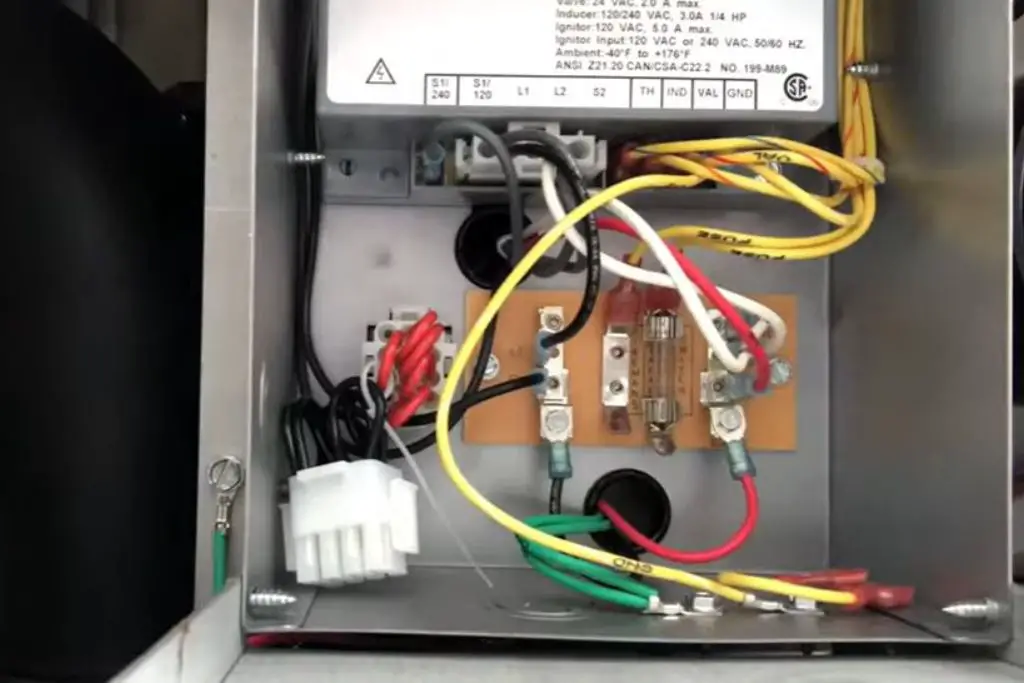 The control board may also be the culprit and checking it with a multimeter should confirm it. Otherwise, the temperature sensor may be faulty. Replace it.
8. E05 Error Code
Pentair pool heater error code E05 indicates that the stack flue sensor is open, as the exhaust temperature was determined to be above 176°F.
Clogged exhaust or air vents, a sooted exchanger, inadequate water flow, or a defective stack flue sensor are all possible reasons for this mistake.
Solution:
Check the fuel supply, the heat regulator, and any orifice blockages again. Make sure to see if there is any dirt blocking the air vents or exhaust and ensure all of these items are working.
If necessary, clean the heat exchanger. Ensure adequate flow rate of water. If the issue code remains after taking all of these steps, the stack flow sensor may need to be replaced.
9. E06 Error Code
Pentair heater error code E06 is another error code related to the stack flue sensor. It means that the SFS has shorted.
Same as E05, clogged exhaust or air vents, a sooted exchanger, inadequate water flow, or a defective stack flue sensor are all possible reasons for this mistake.
Solution:
Go for the same solution as we have suggested for the E05 error code.
2 More Confused Error Codes Of Pentair Heater
Pentair heaters sometimes display codes R13 and R14. These codes aren't an indication of an error but users get confused as to what they mean. We will break down why these codes appear.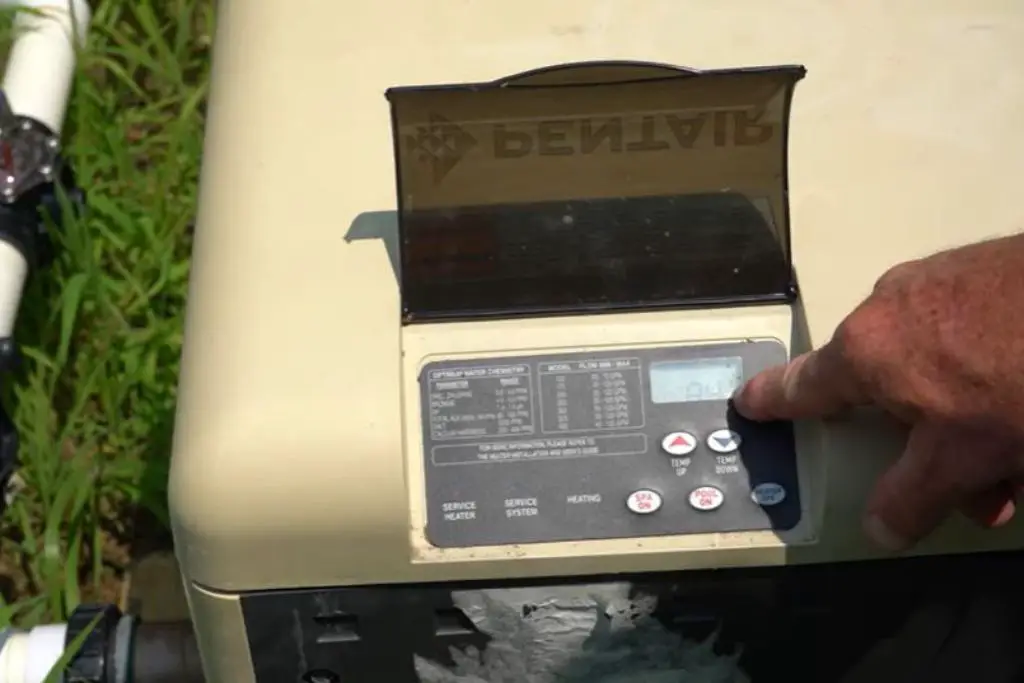 1. Pentair Heater Code R13:
When you notice the Pentair heater error code R13, you don't need to do anything because it's merely a part of the startup routine. When your heater is turned on, you'll see this code on the display.
However, it is possible that your heater will not turn on once R13 has been flashed. Maybe that's why you initially mistook it for an error code. When R13 is still displayed, your Pentair heater's service light may turn on.
All of these occurrences are out of the ordinary. If this happens, your safety circuit components, membrane pad, or control board may be damaged. Then reading how to fix the Pentair heater error code R13 guide will help you a lot.
2. Pentair Heater Code R14:
As previously said, the Pentair heater error code R14 code isn't a cause for concern. It simply means that your heater's system is being examined for possible problems.
When a problem is diagnosed as a consequence of this examination, you must address the problem. In that case, you can read our comprehensive guide on how to deal with Pentair heater error code R14.
FAQs:
How long does a Pentair pool heater take to heat a pool?
The time it takes a heat pump to heat a pool is determined by a few factors. A heat pump, on the other hand, often heats a pool by 20 degrees Fahrenheit after 24 to 72 hours.
Does a pool heat pump need solar cover?
Yes, it is necessary. It's like not insulating your house's loft if you don't utilize a sun cover. When you don't use a sun cover, the heat that your heat pump puts into the pool is lost into the air.
Do heat pumps work better in the shade?
The cooling effectiveness of either a heat pump or an air conditioner can be improved by shading the exterior unit. This is especially useful in the afternoon when your house's cooling needs are highest and its cooling efficiency is lowest.
Do heat pumps need maintenance?
Heat pumps do require maintenance twice a year. Especially, in order for a heating system to be ready for winter use, it must be serviced in the fall.
How often does a heat pump need freon?
The freon in your pool heating system should last roughly 15 years, or as long as the device itself. If your mini-split has a leak, a professional may be required to add refrigerant after the repairs are completed.
Conclusion
Now that you know all about troubleshooting Pentair pool heaters, hopefully, your heater works in top-notch condition.
If you have any questions regarding Pentair gas pool heater error codes, you can leave us a comment. Our expert will help you ASAP.